MORGAN AND J.P. MORGAN START CONSTRUCTION ON UPSCALE PEARL FLAGLER VILLAGE IN FORT LAUDERDALE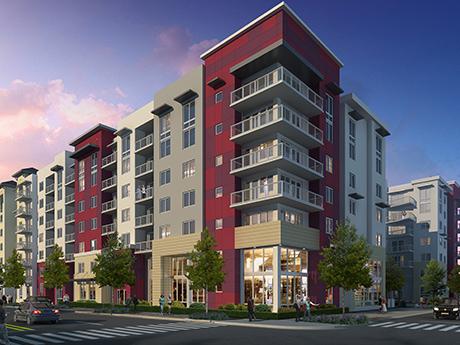 Houston, TX, July 14, 2017– MORGAN, a Houston-based leader in upscale multifamily development, construction and property management with a regional office in downtown Miami, and institutional investors advised by J.P. Morgan Asset Management have broken ground on Pearl Flagler Village, a 350-unit urban rental community. Located at 400 NE 3rd Ave., this is MORGAN's second project within the burgeoning Flagler Village neighborhood. The seven-story building is designed to reflect the artistic FAT Village area just to the west. The opening of the first units is anticipated during the second half of 2018.
Pearl Flagler Village offers an exciting combination of high-quality finishes and unique live/work/play/workout amenities that include modern spaces for social gatherings, fitness, business and relaxation. The resident business center contains a vast collaborative workspace, private office cubbies and a conference room. Additional spaces include a media lounge, warming/presentation kitchen, a state-of-the-art fitness center with yoga studio, mailroom with parcel lockers, and a one-of-a-kind AquaLounge complete with cabanas and fire pits. Outdoor amenities feature covered seating areas with gas grill stations, a dog park and a heated salt-water pool. The pool courtyard, surrounded by units on three sides and open to the south, provides the maximum amount of sun exposure during the day and views of downtown at night.
The new community's unit mix includes 12 studios, along with 239 one-bedroom, 79 two-bedroom and 20 three-bedroom apartments. Also included is a small component of live-work units and commercial flex space fronting NE 3rd Ave. Pearl Flagler Village is situated along the $140 million Wave Streetcar line just steps away from two stops.
"Flagler Village is going through a renaissance, and we are excited to be back in this submarket," said Regional Vice President Evan Schlecker. "We are less than five minutes from high-end restaurants and retail located just a few blocks to the south and east of us. Now that the neighborhood has hit a critical mass, we believe the offerings available to our residents will keep multiplying. Retail developers continue to study sites all around us in an attempt to capture the spending strength of the new residents that MORGAN and others are delivering."
MORGAN is working on other projects in South Florida. Pearl Midtown 29, a 20-story, 309-unit mixed-use apartment tower near Midtown Miami, is expected to open at the end of the year. Pearl Dadeland, a 412-unit apartment building in Miami, is currently open and in lease-up.
J.P. Morgan Asset Management has more than 50,000 apartment units in the U.S., including more than 4,600 in Florida.
About MORGAN
MORGAN is a privately held national developer and manager of Class A multifamily properties. With headquarters in Houston, TX, MORGAN specializes in upscale urban construction and third-party property management across the United States. Since 1988, MORGAN has developed over 18,000 units at a cost of $2.3 billion with a $500 million project pipeline currently in development or under construction. For more information about MORGAN, visit www.morgangroup.com.
About J.P. Morgan Global Alternatives
J.P. Morgan Global Alternatives is the alternative investment arm of J.P. Morgan Asset Management. With more than $120 billion in assets under management and over 800 professionals (as of December 31, 2016), we offer strategies across the alternative investment spectrum including real estate, private equity and credit, infrastructure, transportation, liquid alternatives, and hedge funds. Operating from 23 offices throughout the Americas, Europe and Asia Pacific, our independent alternative investment engines combine specialist knowledge and singular focus with the global reach, vast resources and powerful infrastructure of J.P. Morgan to help meet each client's specific objectives. For more information: jpmorganassetmanagement.com
For more information, please contact:
Carole Minor
Encore Communications
713.880.9550
cminor@encorecommunications.com